---
What to expect in Shanghai
Shanghai is China's expressions of the new age. Plenty of modern architecture and technology are quickly overcoming the traditional and the municipality is extremely westernized. But despite modernization, air pollution in Shanghai is low compared to other Chinese cities.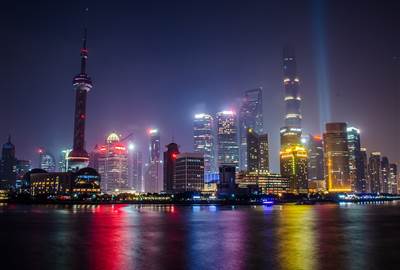 The Bund
The Bund or Waitan in Chinese, literally means "Outer Beach." It is a waterfront area in central Shanghai facing the modern skyscrapers of Lujiazui in the Pudong District.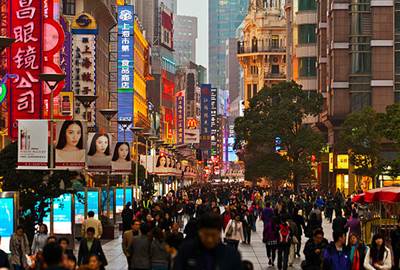 Nanjing Road
Nanjing Road was constructed in the second half of the 19th century. It is Shanghai's principal shopping street. This largely pedestrian-friendly street, offers every conceivable type of consumer good from street vendors selling Chinese-themed souvenirs.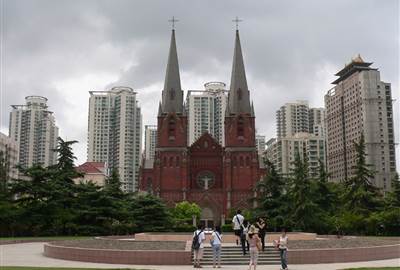 Xujiahui Cathedral
The Xujiahui Cathedral is an important religious site in Shanghai. Also known as St. Ignatius Cathedral, it was built in 1911 in Neo-Romanesque style. It's the largest place of Roman Catholic worship in Shanghai, and is worth visiting for its twin 50-meter-high bell-towers and restored interior with fine stained glass windows.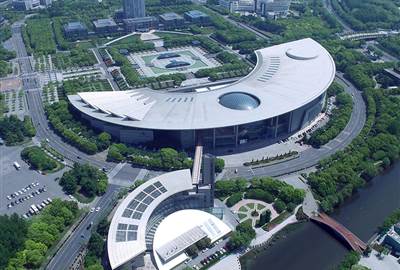 Shanghai Science and Technology Museum
Shanghai Science and Technology Museum is Shanghai's fair share of top-notch museums in the country. It is the largest of its kind in China and draws more than two million visitors each year. Opened in 2001, the museum includes numerous fun interactive multimedia exhibits, permanent exhibits, and state-of-the-art science theaters.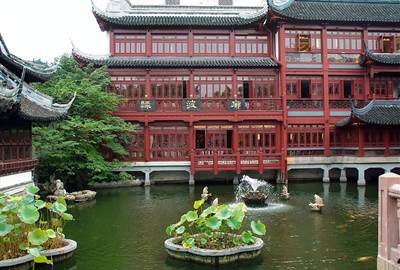 Yu Garden
Yu Garden, known as the "Garden of Happiness," is an extensive Chinese garden in Huangpu. It was first built in 1559 during the Ming Dynasty and it occupies an area of 2 hectares. It was opened to the public in 1961 and was declared a national monument in 1982.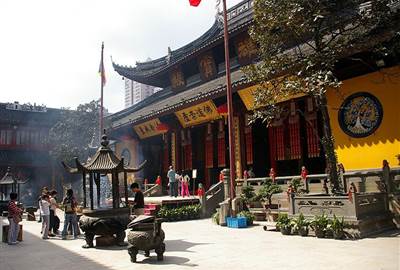 Jade Buddha Temple
Jade Buddha Temple's present building was erected in 1928 to replace the original temple built in 1882. It is located in Jing'an and is divided into three halls and two courtyards which includes the splendid Hall of the Kings of Heaven, notable for its statues of the four heavenly kings and two Shakyamuni sculptures. Carved from white jade, one of these impressive statues stands nearly two meters high in the Wentang Main hall, where a collection of Buddhist manuscripts is also kept.
---
Places to Dine in Shanghai
Shanghai cuisine or Hu Cai, has two styles – Benbang and Haipai. Benbang or "local cuisine", is the traditional family style cuisine that appeared in Shanghai over 100 years ago. It always has a great flavor and a bright color derived from the oil and soybean sauce. Benbang food tastes fresh, mellow and sweet.

Hai Pai or "all-embracing cuisine," on the other hand; is derived from the cosmopolitan culture formed in Shanghai in between 1644-1911. It absorbs the advantages of many food from other regions of China and even western food, and then adapts them to suit local tastes.

Shanghai dishes give emphasis on the use of condiments and the importance of retaining the original flavors of the raw ingredients. These dishes are usually lightly flavored and is mellower and slightly sweet in taste compared to some other Chinese cuisines. An attractive presentation is also important in Shanghai cooking with ingredients being carefully cut and presented to obtain harmonizing colors.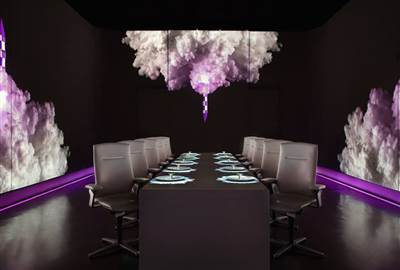 Ultraviolet
The restaurant offers dishes that are mind and tastebud boggling. The room is windowless with an atmosphere that is driven by music, smells and images projected onto the walls. The stars of the show, such as the Pop Rock Oyster and the Truffle Burnt Soup Bread will surely engage every hardcore food-lovers' imaginations and stomachs as well.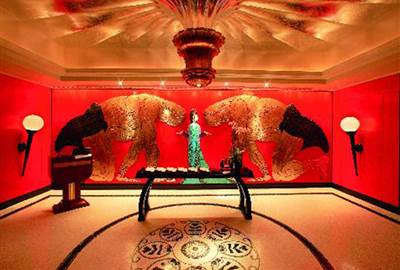 Whampoa Club
Whampoa Club offers an invigorating blend of traditional Chinese cuisine and modern sensibility. The restaurant desires to innovate China's great culinary history, where flavors are intensified, drama is added to the presentation yet doing every detail in a subtle way with a deep respect for traditional Chinese cooking techniques.
UNICO
UNICO is the largest tapas bar in Asia and a hub for all things Latin American. It was opened in Shanghai in 2012, and quickly becme Shanghai's favorite dining and nightlife venue. The restaurant which boasts with stunning views and stylish interior is an arts venue hosting contemporary artists and trendy events at night.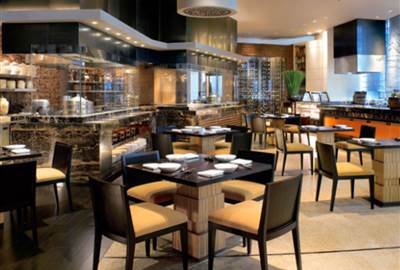 Xindalu
Xindalu China Kitchen prides itself in offering authentic regional Chinese regional cuisine. It stands out for its quality and its chic, comfortable interior. The menu focuses on cuisine from Shanghai, Suzhou and Hangzhou, which means light and delicate flavors. Its signature dishes are Peking duck, beggar's chicken and pyramid braised pork.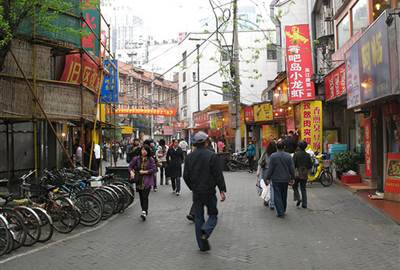 Wujiang Road Snack Street
Wujiang Lu Snack Street, located in Jing'an District, is a paradise of snacks. The Snack Street is very close to the fashion of ordinary people. This is where local cuisines can be found. Tourists can try to taste different snacks while shopping alog the road. Famous food includes Xiaoyang Sheng Jian Bao, tapioca pudding, barbecue, vermicelli made from bean starch, etc.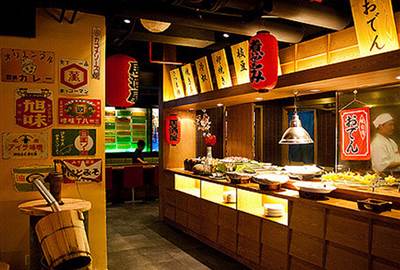 Matsuri 123
Matsuri 123 is a buffet restaurant in Changning District which specializes in Japanese cuisine. Inside the restaurant are 12 food windows with different styles of food, including sushi, stretched noodles, izakaya, fried shrimp and many more Japanese specialties. The restaurant uses cooking methods that retain the individual taste of each ingredient. They also add a layer of animal fat, making the nutrition more balanced.