---
What to expect in Honolulu
A trip to the beautiful island of Honolulu gives you white sandy beaches, volcanoes, and a view of the Polynesian culture. Taking a stroll through a scenic park, go on a hike, and learn about Hawaii's rich history.
'Iolani Palace
Ancient regalia and precious jewelry might not be what you'd first associate to Hawaii, but you probably haven't heard about the 'Iolani Palace yet. The palace was a symbol of promise for the Hawaiian Kingdom from King David Kalakaua, and a beautiful one at that.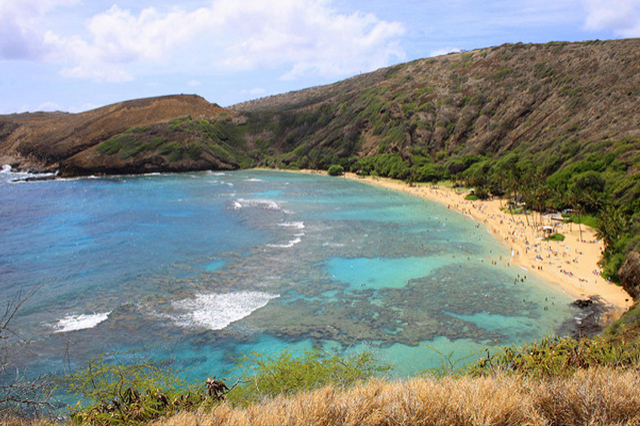 Hanauma Bay State Park
Voted #1 beach in the United States for 2016, Hanauma Bay receives an average of 3000 visitors per day. Formed within a volcanic cone, a pristine marine ecosystem and clear, blue waters continue to entice locals and tourists alike to snorkel.
Diamond Head
While ancient Hawaiians called it Laeahi which translates to "brow of the tuna", it is because of British sailors mistaking calcite crystals on the extinct volcano's crater to be diamonds that Diamond Head came to be called as so.
Manoa Falls
Classified as an easy hike, this 150-foot waterfall will still take you 45 minutes of climbing over small rocks and struggling to walk on slippery mud. However, be ready to take pictures once you get there, especially when it has recently rained and the waterfall is bigger. Remember to wear proper hiking gear and clothing and just enjoy the nature that embraces Hawaii.
Ala Moana Beach Park
If you find Waikiki Beach too crowded, head to Ala Moana which is also well-loved by locals. Swim, relax, or have a picnic – you have half a mile long of sand and calm waters just to do anything you please. It is especially ideal for swimmers because there are hardly every any waves. Can you believe that it is actually man-made?
Kuhio Beach Park
For your stereotypical Hawaiian dreams, you've finally found the place that has it all. Go on canoe rides and catch Hawaiian music shows at sundown. Do some hula while you're at it, too.